OEM (Original Equipment Manufacturer) warranties are designed to protect the end user from unplanned costs due to premature component failures. These guarantees are one of the best ways to maximize the value of your equipment investments, and ensure that any deficient parts are replaced quickly and efficiently.
As a leading manufacturer of secondary packaging solutions, Douglas Machine Inc. provides a robust OEM warranty across all of our equipment. This robust warranty is one of the reasons we've become a trusted provider of shrink wrap systems, case and tray packers, cartoners and more for customers across the nation. Our goal is to provide your business with the insights and support it needs to succeed. So today, we'll be walking you through the many benefits of OEM warranties.
Troubleshooting Failed Components
The best machine warranties not only cover the cost of replacing parts, but also provide assistance in troubleshooting to the failed component level. That's why it's so essential to research the warranty offered by each machine you consider for your business. The level of support the OEM provides can make all the difference in avoiding production downtime and keeping your team on course.
Fast, Convenient Service
Dealing with the equipment OEM is a one-stop shop for resolving component failures, as opposed to trying to work through many component OEMs. This one point of contact makes the process of returning and replacing parts more convenient and efficient. Equipment OEMs can also help with programming warranty-returned components to support faster start-ups.
Another important aspect of OEM warranties is that OEMs do the legwork of negotiating warranties on sub-level components of the equipment. These guarantees are even more convenient when the OEM is available to process claims through the various component OEMs … making component replacement simple for your team.
Quality Components & Products
A long-term OEM warranty is a strong indication that a product is high quality and engineered to last. While it's not the only factor to consider when making a purchase, we recommend prioritizing machines that offer at least two-year warranties across their standard components and one-year warranties for buyer-specified components.
Despite these benefits, remember that any warranty program is a poor substitute for a well-stocked parts room with adequate replacement components for each piece of equipment!
No matter their quality, warranty returns take valuable time to evaluate and process which hampers productivity and your bottom line.
Best-In-Class Warranty from Douglas Machine Inc.
All new packaging equipment manufactured and supplied by Douglas is warranted to be free from defects in materials and workmanship for the time period specified below. The warranty period commences from the date the equipment is shipped from our facility.
Base Frame: Lifetime

Douglas Standard Components: 3 years

Buyer-Specified Components: 1 year
Some limitations and restrictions apply.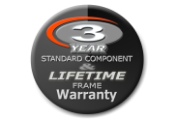 Experience the Benefits of Innovation With Douglas
Ready to learn more about our warranty and selection of powerful secondary packaging solutions? Then be sure to contact Douglas Machine today. Our team would be happy to provide any additional information you need to find the right products for your business – and ensure your investment is properly protected.